Movie - The Fly (1958 and 1986)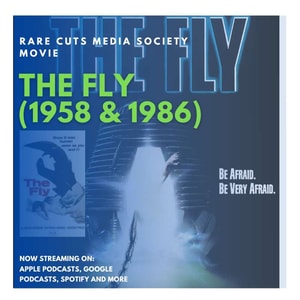 Part 4 in the Short Fiction on the Screen Series!
This Month, Rob picks The Fly by George Langelaan, published in 1957 in Playboy Magazine. It was adapted twice for film. Once in 1958 starring Vincent Price and then again in 1986 Starring Jeff Goldblum. Together the Panel discusses the similarities and differences between the movies and their original source story! Join the Rare Cuts Media Society in taking an in-depth look at all the different versions of the Fly!
Find out more at http://rarecutsmediasociety.com
Follow RCMS: Facebook: facebook.com/rarecutsmediasociety Instagram: @rcmsociety Twitter: @RCMSociety Email: rarecutsmediasociety@gmail.com
Support Rare Cuts Media Society by contributing to their Tip Jar: https://tips.pinecast.com/jar/rare-cuts-media-society
Music by YVHNII from Pixabay