Adventures in Disney 1953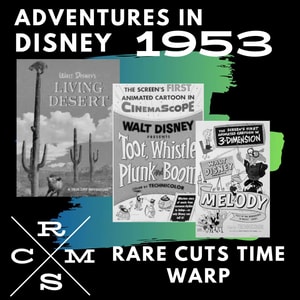 Part 1 in the Rare Cuts Time Warp 1953!
Join us on a captivating journey as we delve into three forgotten Disney films from 1953. In this episode, we shine a spotlight on The Living Desert, a mesmerizing nature documentary that takes us deep into the vibrant and diverse world of desert wildlife. We also explore the controversial animated shorts Melody and Toot Whistle Plunk and Boom from the Adventures in Music series, where Disney's signature storytelling combines with the magic of music to create experimental animated experiences. Through engaging discussions, we uncover the artististry, cultural impact, and problematic imagery. Not all Animation ages well! Don't miss this immersive exploration of The Living Desert, Melody, and Toot Whistle Plunk and Boom, as we celebrate the beauty of nature and the power of music in the world of Disney. Join the Rare Cuts Media Society as we embark on this nostalgic journey through the enchanting films of 1953.
Find out more at http://rarecutsmediasociety.com
Melody (Animated Short) https://www.youtube.com/watch?v=K3_TQp_fyrg
Toot Whistle Plunk Boom (Animated Short) https://www.youtube.com/watch?v=8iVf0pPHvjc
The Living Desert (True Life Adventure Documentary) https://vimeo.com/339307897
Find out more at http://rarecutsmediasociety.com
Follow RCMS: Facebook: facebook.com/rarecutsmediasociety Instagram: @rcmsociety Twitter: @RCMSociety Email: rarecutsmediasociety@gmail.com
Support Rare Cuts Media Society by contributing to their Tip Jar: https://tips.pinecast.com/jar/rare-cuts-media-society