Movie - The Yellow Wallpaper (2011)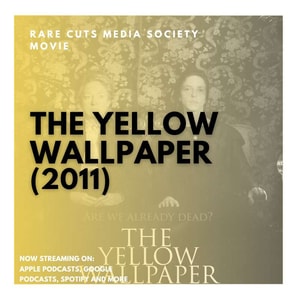 Part 2 in the Short Fiction on the Screen Series!
This Month, Mike Picks Charlotte Perkins Gilman's short story "The Yellow Wallpaper" and the 2011 (or is it 2012) Logan Thomas film based on the story.  This version of of the film is an adaptation, somewhat prequel, and something entirely different from the original story.  And it includes vampires….(checks notes) Vampires did I hear that right?  Yeah, I guess there are some kinds of undead things like that even though that is nothing like the source material.  Anyway…Join the Rare Cuts Media Society in taking an in-depth look at The Yellow Wallpaper  Movie from 2011, among others,  and the Story they were (kind of) based on!
Find out more at http://rarecutsmediasociety.com
Follow RCMS: Facebook: facebook.com/rarecutsmediasociety Instagram: @rcmsociety Twitter: @RCMSociety Email: rarecutsmediasociety@gmail.com
Support Rare Cuts Media Society by contributing to their Tip Jar: https://tips.pinecast.com/jar/rare-cuts-media-society
Music by Leigh Robinson from Pixabay