Movie - Anvil: The Story of Anvil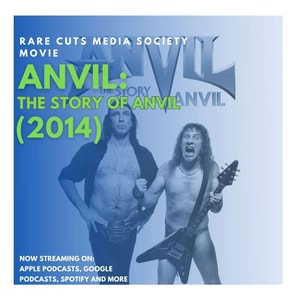 Part 4 in the Biography Series!
In this episode, we explore the cult classic documentary film "Anvil: The Story of Anvil," released in 2008 and directed by Sacha Gervasi. (Rob's Pick for the month) The film follows the Canadian heavy metal band Anvil, who were pioneers in the genre in the 1980s but struggled to achieve mainstream success. Through interviews with the band members and footage of their tumultuous journey, the film explores themes of friendship, perseverance, and the challenges of pursuing one's dreams in the face of obstacles.
We also delve into Anvil's early albums, such as "Metal on Metal," which helped establish the band's sound and influence in the heavy metal scene. Through discussions on their music and lyrics, we explore their place in the context of the music industry in the 1980s, and how they paved the way for future metal bands.
Join us as we take a deep dive into "Anvil: The Story of Anvil" and its lasting impact on the music industry. We discuss the film's portrayal of the band's journey and the challenges they faced, as well as its reception by audiences and critics. Through our analysis of Anvil's music and legacy, we examine their influence on the heavy metal genre and the enduring appeal of their music.
Find out more at http://rarecutsmediasociety.com
Follow RCMS: Facebook: facebook.com/rarecutsmediasociety Instagram: @rcmsociety Twitter: @RCMSociety Email: rarecutsmediasociety@gmail.com
Support Rare Cuts Media Society by contributing to their Tip Jar: https://tips.pinecast.com/jar/rare-cuts-media-society