Movie - Auto Focus (2002)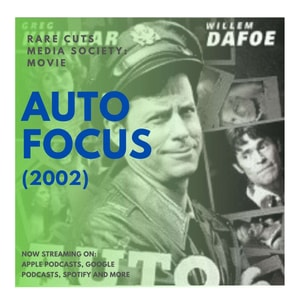 Part 1 in the Biography Series!
Andrew picks Auto Focus (2002)  A biopic movie based on the debaucherous life and death of Bob Crane the star of Television's Hogan's Heroes.  Greg Kinnear plays Bob Crane and Willem DeFoe plays his bad influence wingman John Henry Carpenter.  This movie is based on true events but only shows the events surrounding Bob Crane's Death and Sex addiction.  Together the Panel talk about the true story and events as well as the movie Auto Focus!    Join the Rare Cuts Media Society in taking an in-depth look at 2002's Auto Focus!
Music by ComaStudio from Pixabay
Find out more at http://rarecutsmediasociety.com
Follow RCMS: Facebook: facebook.com/rarecutsmediasociety Instagram: @rcmsociety Twitter: @RCMSociety Email: rarecutsmediasociety@gmail.com Support Rare Cuts Media Society by contributing to their Tip Jar: https://tips.pinecast.com/jar/rare-cuts-media-society